Posts tagged with "pets"
A Story About a Frog
My friends on Facebook have already heard some of my issues about my pet frog, Odyssey. She is getting very old. She has bumps on her stomach that look like hernias and a dark spot on her back that have developed over the years, but with a healthy appetite. She loves to shove food in her face! Lately she has slowed her eating. I thought she might be dying and got worried. She is eating now, but I thought this would be a good opportunity to write a little about her.
Odyssey is an African Clawed Frog that I bought from a company called Grow-A-Frog. A friend and I were out shopping in a little tourist town when we came upon the boxes in a toy store. We each bought one. My friend couldn't get hers to live beyond a month.
The box came with a small tadpole habitat and a coupon for a free tadpole to be sent via mail. My first tadpole arrived dead. They sent me a second one, and I named her Phantom.
I raised phantom into a froglet. It was a beautiful thing to see. I decided to get her a bigger habitat from the company. With each order they send you a free froglet (a frog still in infancy), so with the bigger habitat, came Odyssey.
Odyssey was just a smudge bigger than Phantom. Frogs are very social, so they enjoyed each other's company. However, I soon noticed that Odyssey was continuing to grow while Phantom was not. It wasn't long before Phantom disappeared and I believe became Odyssey's lunch. I had suddenly learned more about nature! Survival of the Fittest.
Odyssey grew and grew and grew. I don't know how much she weighs, but I know it takes two hands to hold her!
That was the summer of '99. It is now August of 2011, and I have had Odyssey for 12 years. I had issues in our first few years with learning to seal off the tank lid, lest I find her flopping around the carpet somewhere, but now in her later years, she has lost that amount of spunk and daring.
I guess I wanted to talk about her and make sure people knew about her, because she has given me so many good years. I hope I have made some of her last as comfortable as possible.
It has been a while since I have posted a real post. Finals are over with, and now I am just waiting for the scores for the last class to come in. So far, I have three A's and two B's. I can't believe I'm going to graduate. It doesn't seem real. Through trying to work full-time, this degree is 8 years in the making. Graduation is Tuesday. I can hardly wait!
I would have to get a cold before graduation. Sean has been sick for over a week. 15 minutes after I finished my final exam, I started to feel a scratch in my throat. Now I am on the couch with one of the worst sore throats I've ever had. Ugh.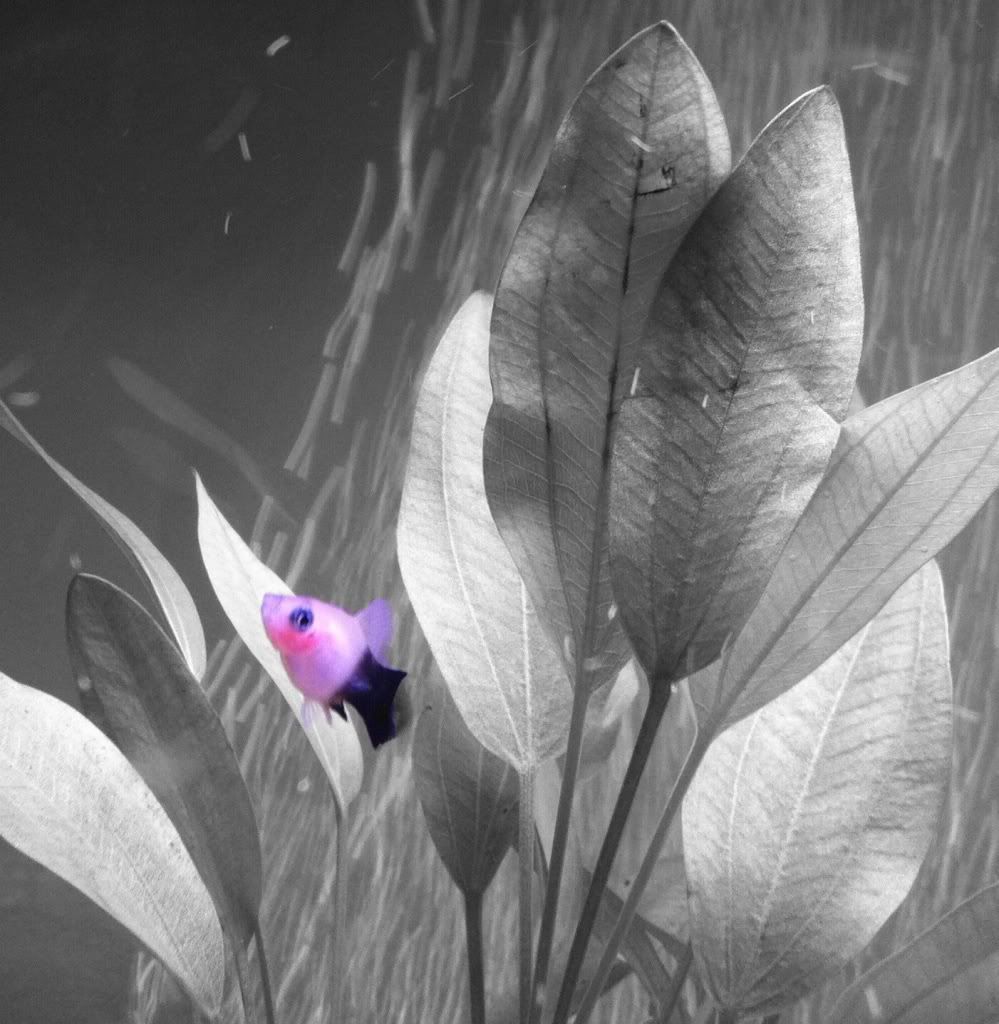 In other news, I got a new fish tank as a graduation present from the hubbs. It is a 10 gallon. I set it up with two plants. I'm doing a planted tank instead of a plastic plant aquarium. Last weekend I stocked it with 6 glofish, since they are a schooling fish, and a panda platy. Yesterday, a pink glofish died. I have two of each color. Today, a large orange one died. I have read that you need to cycle a tank with just a few fish like danios, but they are a schooling fish and get stressed when not in a school of 5 or more. Cycling is stressful on a fish anyway. I'm up in the air with all of that, but I'm just hoping that my little fish can last this cycle.
I did some test readings today and the alkaline level was high (which is normal for this early part of the cycle), but also my hardness and ph were high. I have to get the treatments for that when I can get out of the house. It has all timed itself poorly since I am sick and could barely convince my husband to go buy some test strips for me.
They are pretty active at the moment. The glos are chasing each other playing. My panda is currently foraging the bottom of the tank for left overs. He eats when it is feeding time, but then he searches the bottom for more. He has a cute little chubby belly. I'm totally in love with the platy. I think when my tank has cycled I will add a few more platies.
*sigh* Now just to get over this cold…